"Lima machines are very good and adapted for use by anybody no matter their level of education. Above all, they has technicians ready 24h daily to give expert advice in case a customer has difficult during use. "
Amoako Frimpong
Ghana
"I personally visited their factory, and they introduced me to various machines in great detail. Their factory is very large and has a complete production line. And I am surprised that their production is so efficient."
Atuegwu Charles
Nigeria
"Henan Lima Machinary is the best company I have ever dealt with. I am from Kenya and to say the truth when dealing with this company to get various machines I needed to setup my factory, it seems like they are just next door. "
Nelson Abila
Kenya
"Their after-sales service is very good, and the professional technicians have helped me solve many problems, which makes me very relieved. A company with good after-sales is great!"
Gary Schumacher
Canada
"My personal experience with LIMA has convinced me that such freedom is possible with their machines; You are fully in control of your business like I am today. Not to mention the warm reception from their always ready-to-help sales representatives, you'll rightly feel at home. "
Kumar Rohra
Tanzania
"I have so far bought three products from them and I must say they are honest and always ready to assist. The machines I have really do as it's been advertised and it's user friendly. Their reps are very respectful especially the one I deal with "
Mgbeobu
Nigeria
"Great company,with good track record of quality delivery, second to none!! We will mobilize Africa to patronise you so we can change the face of Africa from a consumer continent to a producing continent. "
Harriet
Uganda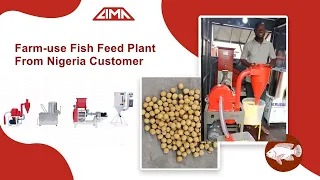 This farm-use production line has a small footprint and is very easy to use. After customers get the machine, they can use it directly. The biggest advantages of this small production line are Low-cost investment and high economic benefits, it can better ensure the quality of the finished feed pellet.
Read More »