Abdulrahman is a fish farm manager from Nigeria who owns a medium-sized fishery there. Recently he planned to expand his fish pond and ordered a floating fish pellet machine of model LM-60 from us, this model of fish pellet machine can produce 100-150kg/h. In the process of communicating with the customer, we have established a good cooperative relationship, and he also agreed that we will publish his address on our website. If anyone needs to test the machine on-site, you can contact us for contact information.
Basic information of customers
Client Name: Abdulrahman
Client Country: Nigeria
Client Address: No 7 testimony lane, Clobek Crown Estate Lugbe Abuja Nigeria
Fishing ground situation: There are currently 76,000 fish, and there are plans to expand the fish pond to 100,000 fish
Introduction to the order process
Abdulrahman saw our floating fish pellet machinery on our Facebook. He has been very active in answering our questions and asking for our advice during our sales manager's communication with him.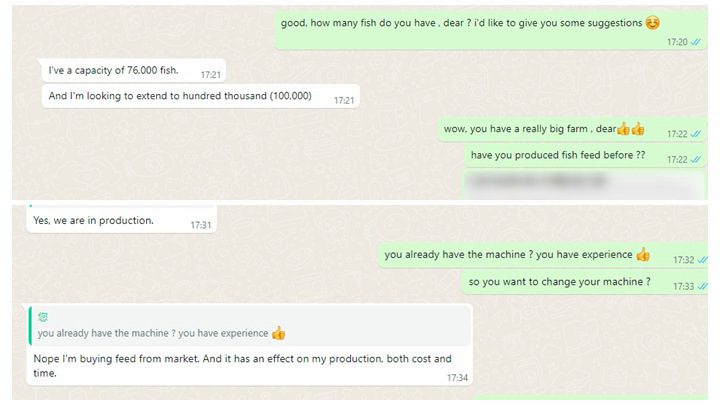 From his mouth, we learned that the client operates a medium-sized fish pond and plans to expand the scale of farming. But due to the rising price of fish feed pellets, he decided to buy a machine for his own fishing grounds.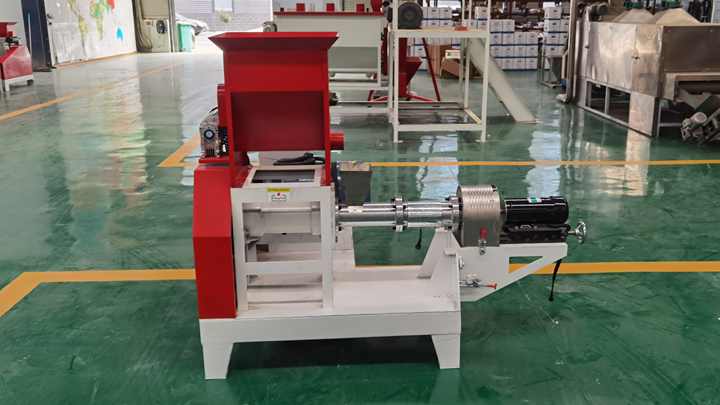 The client told us that he now has about 76,000 fish and informed us of his specific expansion plans. Our sales manager recommended two floating fish pellet machines LM60 and LM70 to him based on his current fish quantity and the need for later expansion. The output of the LM60 series can reach 100-150KG/H, which is more than enough for his current fishery feed. The LM70 series is recommended based on his expansion needs.
| | | | | | | | |
| --- | --- | --- | --- | --- | --- | --- | --- |
| Model  | Capacity (kg/h) | Main power (kw) | Feeder power (kw) | Screw Diameter (mm) | Cutter power (kw) |  Dimension  (mm)  | Weight (kg) |
| LM60 | 100-150 | 15 | 0.4 | Φ60 | 0.4 | 1470*1100*1250 | 350 |
| LM70 | 180-200 | 18.5 | 0.4 | Φ70 | 0.4 | 1650*1400*1300 | 580 |
Parameter list
The customer chose the LM60 floating fish pellet machine and told us that his fish pond expansion plan has not been implemented, and he decided to buy an LM60 for his current needs. In the follow-up, whether it is to expand the fish pond, or to produce feed to sell in the market, he will communicate with us again.
Test machine video before delivery
Before the machine was shipped, we tested the machine, and the customer was very satisfied with the test results.
Details about the purchasing process
Later, we talked about freight and import rights and other related issues. The customer told us that he not only imported machinery from China but also imported other products from Singapore, Thailand, and other places.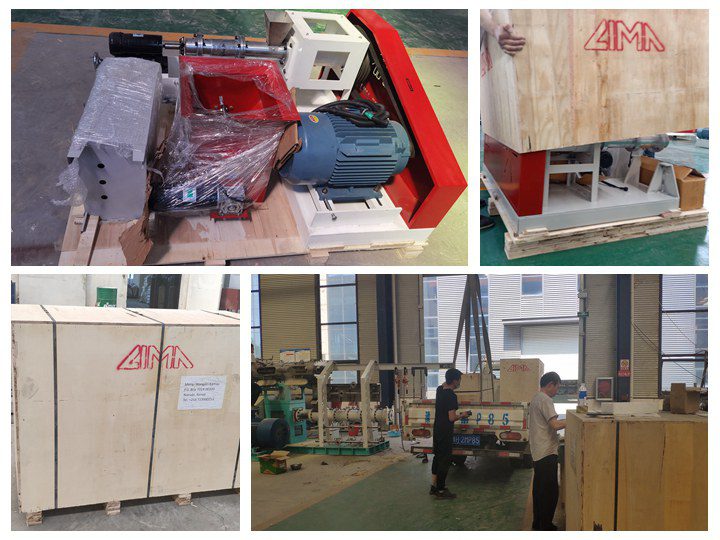 On the same day, we inquired about the nearest freighter. Combined with the production cycle, we told Abdulrahman that it would take about 30-40 days to ship to Nigeria.
The customer also asked if there is an agent in Nigeria. At present, we do not have an agent. We have a lot of customers in Nigeria and gave him the contact information of some customers. After he communicated with our local customers, He has more confidence in the quality of our products.
Nigeria is our largest market, we have a lot of local customers, if you need to visit our fish pellet equipment, we can provide you with contact information. In addition, the production of fish food pellets in Nigeria is also very promising, and good economic benefits can be obtained whether it is used by itself or sold.